Dear Member
It will be August when you receive this Newsletter, the month of our Summer Exhibition. We have been very pleased indeed at the response of our members, putting their work forward for this. The exhibition runs from 16th to 28th August so do bring your friends and family along to enjoy the show!
We also have an exhibition of 'Cookham High Street' paintings at Elizabeth House in Cookham Rise. As the venue is happy to keep the pictures up for a while longer, we have decided we would tell people of this display when they visit our Summer Exhibition at Pinder Hall, so they might drop in to see them, too. They will be taken down straight after this, and will be available for you to collect at Tuesday Painting on 30th August, or some time later. Please let us know if you would like to get your painting sooner.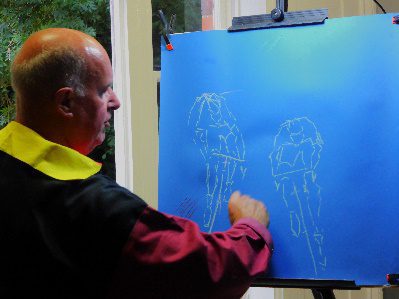 At our monthly meeting in July Stephen Cheeseman entertained us with his skills with oil pastels. He worked on Canson Mi-Teintes pastel paper in a pale blue colour. Although we might associate this paper with dry pastel work, it is also ideal for the application of oil pastel followed by blending with a solvent such as white spirit. He recommended Sennelier as super soft, quality pastels and also made use of Pentel; cheaper, but not quite so 'buttery'. Apparently the Pentel paintings will eventually dry, but the Sennelier ones never do. Sennelier make a fixative if you do not want to display paintings behind glass.
Stephen is a very good presenter having a friendly interaction with the audience. At 'half time' he even encouraged us to come and doodle on the painting to get a feel for the medium – he then 'mended' his painting after coffee – an unusual and interesting demonstration technique! His dynamic picture of racing cyclist certainly fulfilled the brief of 'people in action'.
August's outdoor painting was based near the church at Hughenden. Lyn's painting just about sums up the heat of the day with the cattle grazing on the ready-made hay! Hopefully next month it will not be such scorching weather, which we think put off a few people from travelling to Hughenden.
Outdoor painting, Sunday September 4th, 10.30am – 4pm. Do come and join the group on the shores of Bray Lake in the grounds of Thames Hospice. Located on Windsor Rd, Maidenhead, SL6 2DN, past the motorway bridge, there is plenty of car parking on site. You enter through the doors to the Cafe by the Lake, and tell the receptionist on the way in that you are with CAC. They are expecting us. We can paint from within the area in front of the cafe which has views across the lake towards the sailing club, but must not go over the wooden bridge to the area reserved for patients and their visitors, to respect their privacy.
It's not a large area and direct access to the lakeside is only from a public footpath running across in front, which is not accessible from the Hospice grounds. You will have to access the footpath from much further along Windsor Road if you would like to walk around the lake. Cafe and facilities are open all day and they have good range of lunches and cakes.
They would be interested in seeing our paintings afterwards, so if they don't see them on the day, Lyn will follow up with photos for them if others agree.
Monthly Meeting. Thursday September 15th, 7 – 9pm in the Parish Centre (Church Gate, Cookham, SL6 9SP.)
George Boyter is coming to demonstrate his watercolour techniques with a big sky landscape.
Tuesday Painting Workshops. At Cookham Dean Village Hall, Church Road, Cookham Dean,
Berks SL6 9PY, from 2 to 5pm.
Tuesday Painting: cost £2

A topic, appraisal, tea and cake

Tuesday Extra: cost £1.50

Painting, tea and biscuits

August 30th: Wild water
September 6th: Paint what you like
September 13th: A pen and ink drawing (if using a wash, try mixing your own black with burnt umber and ultramarine)
September 20th: Paint what you like
September 27th: A portrait using pastels or coloured pencils
October 4th: Paint what you like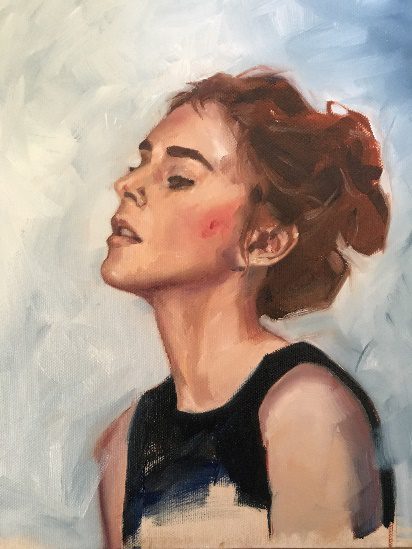 Coming Soon
Workshop: Saturday October 1st, 10am – 4pm, in the Parish Centre (Church Gate, Cookham, SL6 9SP.) A portrait in oils or acrylic, with Sue Tilbury.
Sue has sent this portrait, left, for our newsletter. If you like to paint portraits, or need the inspiration to start or to improve your skills, do come along.
Look at www.suetilburyart.com for more examples of her work.
The cost will be £35. To join the workshop, please email Sue Sepehri by Saturday 10th September requesting how many places you will require. Please send your request sooner, if possible, our workshops are often over-subscribed
Sue Sepehri will then email your confirmation and outline your payment options. No payment will be required until Sue has emailed you and confirmed your place.
TIP OF THE MONTH
If you are using wooden panels for painting it's recommended to cover the front and the back with a gloss medium to seal the wood and once dry, apply a coat or two of primer (gesso).
Yours sincerely
Robert Jones
Newsletter Editor