October 2022
In loving memory of Queen Elizabeth II
1926 – 2022
*************************************************************************************************************************************************
This silhouette was drawn by Kay and used on a card which she sent to Her Majesty on the occasion of her Diamond Jubilee 10 years ago. She received a nice reply from a lady-in-waiting saying that the Queen liked it. King Charles III is an accomplished artist and members may recall seeing his work at the Mall Galleries.
*************************************************************************************************************************************************
Dear Member
Outstanding displays, just gets better every year.
Eclectic range of styles and themes, great to see such talent.
What a brilliant exhibition – you have inspired me!
These are just a few comments left by the visitors to our recent Summer Exhibition.
This was a special event for our Club, being the 80th annual Summer Exhibition (in our 81st year – just one exhibition missed, due to covid, in 2020) so we invited Elisha Enfield, Sky Arts Landscape Artist of the Year 2022, to come and open the proceedings at our preview evening. In her remarks she paid tribute to the historic arts club for championing artists in an area which is surrounded by natural beauty, before cutting the ribbon and allowing the visitors in to view the exhibition.
I would like to say, on behalf of the club committee, and especially Wendy our exhibition organiser, a huge thank you to all our artists who exhibited and to all the members and their friends and partners who came along to set up and dismantle the exhibition. It is no mean task, setting up all those heavy screens and then deciding on the appropriate paintings to put on each one, when we have hundreds of paintings to choose from! The 'refreshment team' of Chris, Ruth and others who kept us going during the setting-up weekend deserve a special mention.
Visitors voted for their favourite exhibit in painting and craft categories. The winners were Sandy Herz for 'Incoming Light' and Alison Pink for 'Fox'.
We think we can declare it another successful exhibition. We averaged over 80 visitors each day (a couple of hundred more visitors than in 2021). It is marvellous to have the opportunity to display our work and hopefully give pleasure to our visitors, but at the same time it is important to sell some of the work so that we can afford to put on the exhibition. This year the artwork sold well and we think that we have covered our costs – as usual our treasurer will give the full figures at our AGM.
For our outdoor painting day in September, we visited the Thames Hospice near Windsor. It was refreshing that 8 painters came to capture scenes in the grounds and across Bray Lake. Arrangements had been made in advance and the staff and volunteers made us extremely welcome throughout the day. They, and some visitors to the hospice and café, came to talk to us during the day, showing a great deal of interest as we painted, and afterwards when we displayed the
pictures on a table at the café. They took photos and asked if they could use them in their social media pages to which we all agreed. We were invited to return at any time in the future.
Painting of the Hospice by Lyn
Workshop, 1st October, in the Parish Centre. Sue Tilbury, portraits – this workshop is fully booked. Please arrive at 9.30 for a prompt 10am start. Bring own lunch and mug, tea and coffee will be available all day. Sue Sepehri will email participants if there are suggestions from the tutor about what to bring along.
Outdoor painting Sunday 9th October, 10am – 4pm.
Many of us go up to Cookham Dean for Tuesday Painting, but perhaps we don't venture outside. For this Sunday Painting we have decided to meet at Cookham Dean, outside of the Hall and explore, and paint, the area – there are some lovely views and characterful buildings, including the church and a couple of pubs!
We hope to be allowed to use the toilet facilities in the Hall – if not available, we could hopefully pop into the Jolly Farmer to use theirs, even if it means buying a drink or some crisps. Afterwards, there are cafes in Cookham or Costa Coffee at Furze Platt we could use for our get together at about 4pm – we'll decide on the day.
Monthly Meeting: 20th October, 2 – 4pm (note our Autumn/Winter times) in the Parish Centre (Church Gate, Cookham, SL6 9SP). Mark Warner is coming along to demonstrate his unique and colourful approach to landscape painting, using acrylics. If you would like to see some of Mark's work, go to www.brushmark.co.uk .
Tuesday Painting Workshops. At Cookham Dean Village Hall, Church Road, Cookham Dean,
Berks SL6 9PY, from 2 to 5pm.
Tuesday Painting: cost £2

A topic, appraisal, tea and cake

Tuesday Extra: cost £1.50

Painting, tea and biscuits

October 11th: A painting using the 'Zorn' palette
October 18th: Paint what you like
October 25th: Christmas card competition
November 1st: Paint what you like
Coming Soon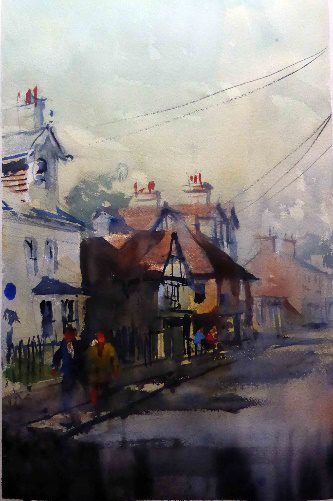 Workshop, all day, Sunday November 13th in Cookham Dean Village Hall, by Keith Hornblower. His theme will be a watercolour scene in Venice. Many of you will remember his great demonstration of a painting of Cookham High Street. If you would like to work on your watercolour technique, do come along.
The cost will be £40. To join the workshop, please email Sue Sepehri by Friday 28th October requesting how many places you will require. Please send your request sooner, if possible, our workshops are often over-subscribed
Sue Sepehri will then email your confirmation and outline your payment options. No payment will be required until Sue has emailed you and confirmed your place.
Coming next year Cookham Arts Club Holiday 2023
Fancy a week's holiday in South Wales with full board?
We could still add a few people to the party, especially if you are willing to share a room.
We have had quite a few new members joining the club since this was first advertised, so we thought it worth mentioning again.
The Club is planning a 7-night Painting Holiday, based in Brecon, Date: 23‐Jun‐2023,
with HF Holidays, at Nythfa House, Brecon, Powys, LD3 7NN
Whether a long-time member or a newcomer, if you are interested, please get in touch for further details.
TIP OF THE MONTH
Do you use a limited palette? One of our challenges for 'Tuesday Painting' in October is to use the Zorn palette.
To learn more, Google 'Zorn palette' – the article from Artists and Illustrators is informative.
Yours sincerely
Robert Jones
Newsletter Editor