This was to have been a more cheerful Newsletter, reporting on something of a return to activity for the art club. A small group of members made a careful start back at 'Tuesday Painting' for two weeks and we felt that we could go ahead with the painting workshop, planned for November. However, you will have seen in a recent email that these events are cancelled again, due to the increasing coronavirus infections and consequent new restrictions. The 3rd October workshop has also been cancelled.
We will, as always, get through these adverse times with humour and lots of cups of tea. I hear The Seven Dwarves have been told that, from Monday, they can meet in groups of six. One of them isn't Happy! (Oh! the internet, such a source of fun!)
Talking of the internet, have you had a look at cookhamartsclub.com our new website? Still very much 'under development', but coming along nicely.
A few weeks ago, 35 or 40 members enjoyed an on-line demonstration – a canal scene in watercolour by Catherine Beale. As well as showing us her techniques and producing a reasonably complete painting in the limited time, we could ask questions and join in with the discussion. Her method involved multiple washes of colour followed by much lifting off, to establish highlights. Lifting off the watercolour was largely done with flat brushes and, of course, requires a tough surface in the first place. She was using Aquafine watercolour art board, and also enjoys painting on a wood surface coated with Daniel Smith's watercolour gesso. She also mentioned that a clay surface such as an Ampersand Aquaboard panel was a really interesting watercolour base.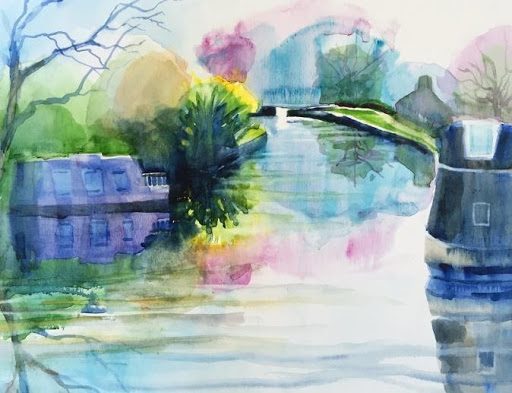 Another on-line demonstration has been planned for 16th September, about the time you receive this Newsletter. You will have received, by email, the details of how to join in. We look forward to reporting on it next time.
Healthcare Heroes

Have you have come across the initiative that the artist Tom Croft started, asking artists to contribute a portrait of NHS staff that they were matched with? The project has been a huge success, with many artists completing portraits in recognition of the endless effort and sacrifice of the NHS staff.
Below is a link to an online exhibition of some of the thousands of portraits that were completed.
CAC member Clare Rowan completed a double for Heidi and Dave, care workers from Stoke (left), and she was delighted to see that it's been included, online.
https://artsandculture.google.com/project/healthcare-heroes
Tuesday Painting. As mentioned, we made a tentative start to meetings, but have now had to cancel – so until we get under way again, do keep painting and send me your photos (rdjforcac@gmail.com ). As with the usual 'Tuesday Painting', anything goes – so feel free to send me pictures of your art, on or off topic.
Along with the photographs of artwork I have also received news of a few artists who have their paintings displayed in galleries. Many of our members are painting most days and perhaps looking for other outlets to display and sell some more recent work. Does anyone know of galleries that are accepting artists work, or of businesses which like to display some paintings (we used to display some in a pub in Cookham), or active exhibitions in and around the area? I know this is difficult due to coronavirus, but among our large membership, perhaps someone has some ideas which we could pass on to the group. Please do get in touch if you can help.
On the subject of getting in touch, I mentioned some new email addresses for committee members last time, including in our letterhead, Kay (Chairman), Freddie (treasurer) and Simoné (secretary), and my address at the bottom – Robert (newsletter editor and membership secretary).
Others on the committee, with their main areas of responsibility, are:
Pam Cullinane: pmcforcac@gmail.com (Tuesday painting topics)
Janet Fois: No email address (Organising demonstrators and workshops)
Wendy Mercer: wgmforcac@gmail.com (CAC Exhibitions)
Lyn Rackley: lrforcac@gmail.com (Tuesday painting and Outdoor painting)
Sue Sepehri: smsforcac@gmail.com (Trips to exhibitions)
Satu Vartiainen: shvforcac@gmail.com (Organising demonstrators and workshops)
And last, but not least, our esteemed President Bert Showell: bsforcac@gmail.com
Tuesday Painting: Suggested TOPICS
September 22nd: Clowns/ Street performers
October 27th: Under a street light or an umbrella
September 29th: Still life: Breakfast
November 3rd: An abstract inspired by a still life set up
October 6th: Design a mural for a children's play area
November 10th: Autumn, season of mists
October 13th: Image inspired by a song or poem
November 17th: A composition in black, white and grey
October 20th: Design a Christmas Card
November 24th: Pets
Yours sincerely
Robert Jones email rdjforcac@gmail.com
Newsletter Editor