Dear Member
After having to cancel the Spring 2021 Exhibition it was good to gather this March to erect the screens and put on a show. Our artists did us proud and visitors came and enjoyed the displays, despite the worries of Covid.
Sales were strong, much to our relief, and we think it can certainly be labelled a successful exhibition!
Many, many thanks to all the artists who took part and the 'crew' who assembled and took down the display boards. We would like especially to thank Wendy for all the organisation, bringing us together in the safest way to get the exhibition up and running.
Also in March, Max Hale came to the Parish Centre to give us a demonstration.
Max painted a small still life of a few plants in pots on a window sill – completed within the hour and a half of the meeting. He used water mixable oils, emphasising they were not water soluble but water mixable, keeping the amount of water used to a minimum, with the brush only damp, to work the paint.
He painted in a loose style, beginning by covering the canvas in a mid- tone green, then drawing in a rough outline with a brush and applying areas of dark tones, in his underpainting. He then painted the pots & flowers first, leaving the background window frames to be painted in afterwards, in order to give the painting a" loose, broken effect, not photographic". The final touches were to add extra highlights to the foreground flowers.
The painting was done almost entirely with a medium flat brush, applied in different tones of colour mixed on the palette, in a patchwork effect, importantly not moving the paint around or blending. This worked extremely well as can be seen on the flower pots.
It was an enjoyable demo interspersed with a few pieces of advice for us, such as not blending the colours on the canvas, not using white to lighten a red, but yellow plus a little white (avoiding it becoming pink).
To sum up he said paintings should "create an illusion based on what you are seeing but let your eye make up what you have not painted in detail." Lyn
Events in May
This year the Festival runs from 6th – 22nd May. Cookham Arts Club was invited to take part and members have been busy painting images of all the shops and cottages along the High Street, which will be hung together to give a panorama of the Street. This can be seen at Elizabeth House, in Cookham Rise, throughout the Festival period, Monday to Friday, 10am – Noon and 2pm – 4pm, and for the rest of May.
Do look at www.cookhamfestival.co.uk to see details of all the Festival events.
A few members met at Ray Mill Island for an outdoor painting session in April. The weather was fine and a good day was had by all.
Why not join us on Sunday May 15th 10.30 – 4pm at Holyport Green.
Parking is only on road but it is a big area with plenty of space around the green. There are variety of scenes to paint; the pond, red telephone box, lovely cottages and two pubs on the green – the Belgian Arms (by the pond) and the George in middle on the green. We will decide on the day where to get together for a chat about 3.30 to 4pm.
Monthly meeting: 'New Arts Evening' on May 19th, 7 – 9pm in the Parish Centre (Church Gate, Cookham, SL6 9SP.) This is a critique of our 'modern style' paintings by the artist Keith Morton. Please bring along ONE new, modern style painting (e.g. an abstract or a work with an unusual/new approach) which has not been seen at one of our previous meetings. We look forward to an entertaining evening. As usual we will have a small prize for the members' favourite painting.
Tuesday Painting Workshops. At Cookham Dean Village Hall, Church Road, Cookham Dean,
Berks SL6 9PY, from 2 to 5pm.
| | |
| --- | --- |
| Tuesday Painting: cost £2A topic, appraisal, tea and cake | Tuesday Extra: cost £1.50Painting, tea and biscuits |
| April 26th: Under the sea | May 3rd: Paint what you like |
| May 10th: A view from above. | May 17th: Paint what you like |
| May 24th: A seascape with rocks. | May 31st: Paint what you like |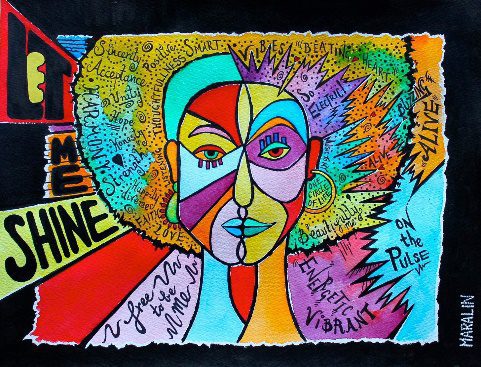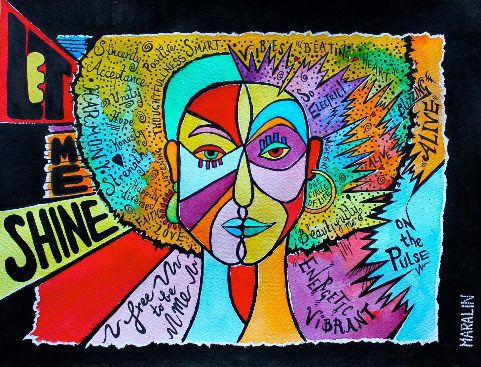 Member's News
Maralin Cottenham, one of our committee members, recently entered a painting in the 'Love Slough Fine Arts Festival'. Her work represented the spirit of the diverse, multi-cultural community of the town, in her truly unique style. The entry was large and we congratulate Maralin on reaching the final six. You will still be able to see some of the works entered in the competition if you search the web for Love Slough Fine Arts Festival.
Well done, Maralin.
Coming Soon
CAN YOU HELP? On Sunday July 10th, 12 – 4pm, we plan to hold our Summer Party. In previous years one of our members, with a suitably large garden, has been good enough to host our get together. Do you think you could offer a venue for the Club? Please get in touch with me, Robert, if you could. (email below).
THE CLUB'S WEBSITE is undergoing a 'tidy up' to make it a more user-friendly and useful reference for what is happening in our club, and all sorts of other information about our group and its members.
At our last committee meeting we had the thought that perhaps our 'title logo' could do with bringing up-to-date.
The pictorial part of this is very much representative of the history of the club – when it was founded, 81 years ago, theatre and musical events frequently featured in our activities. Do you think, because of its historical references, we should keep this?
The 'Cookham Arts Club' text is in, what many would consider, a very old-fashioned font – which we changed a while ago for these newsletters – what do you think of this?
WHAT WE ARE REALLY ASKING IS 'WOULD ANY MEMBER LIKE TO HAVE A GO AT RE-DESIGNING OUR LOGO?' WE WOULD LOVE TO RECEIVE YOUR DESIGN, OR JUST HEAR YOUR OPINION. Please drop me, Robert, or any other committee member an email. We could send you a copy of the 'clover leaf' graphic as a starting point. Many thanks.
TIP OF THE MONTH
Like a bit of multi-media? Many people add to acrylic paintings with pastels, however if you use soft pastels the pigment won't stick very well. If you apply a coat of clear gesso to the dry acrylic painting it will provide a good 'tooth' for the pastel work.
Yours sincerely
Robert Jones