Dear Member
At our Monthly Meeting in April, Geoff Hunt demonstrated a London River Thames scene, using oils.
It was fascinating to watch the distant London skyline appear with the Thames and river craft in the foreground. Geoff's advice on painting trees was interesting – something along the lines of 'paint a dark shape, give it a border of green/yellow, and the viewer will see it as a group of green trees'! 
Not as many members as usual came to watch Geoff. He is a very experienced and skilled oil painter and a joy to watch, so if we book him again do come along.
Judit Matthews came to run our mixed media workshop in April. The topic was animals. Judit is an illustrative artist and introduced participants to a different style of painting to our 'usual' workshops. We think that most artists left feeling quite pleased with their work, but would have liked a little more guidance and inspiration.
Our paintings of Cookham High Street are now on display in the dining room at Elizabeth House, Cookham Rise, SL6 9BS.
You can visit from Monday to Friday, 10am – Noon and 2pm – 4pm at least until the end of May.
Events in June
Outdoor painting, Sunday June 12th 10.30 – 4pm. Please join us to paint in Wooburn Town.
There is a large, free, car park adjoining Wooburn Park. Approaching from Maidenhead along the A4094 towards Wooburn Green, take the right fork immediately after The Old Bell Country Inn (HP20 0PL) into a road called Wooburn Town – car park is about 300yds ahead. Subjects could include the church, church hall, Old Bell Country Inn, the park or some of the old cottages surrounding the lane. Wash Hill extends up the hill from the park and is said to offer views down on the area of the church. For facilities we can use the Old Bell, and the landlady, Daniela, is happy to supply tea afterwards.
Monthly meeting: A demonstration by Hashim Akib on June 16th, 7 – 9pm in the Parish Centre (Church Gate, Cookham, SL6 9SP.)
Hashim has visited us before, when his demos have been greatly enjoyed. He works with acrylics and will be painting a street scene.
TIP OF THE MONTH
If you want a soft edge when using acrylics try rubbing the edge of recently applied paint with a damp green scouring pad. This should effectively blur the edge.
It is good to receive some of your artwork, occasionally, to publish in this newsletter.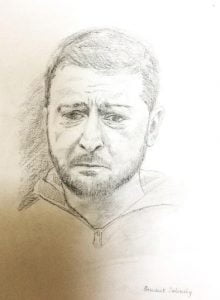 Many thanks to Ann King for this thought-provoking pencil portrait of President Zelensky.
Tuesday Painting Workshops. At Cookham Dean Village Hall, Church Road, Cookham Dean, 
Berks SL6 9PY, from 2 to 5pm.
Tuesday Painting: Suggested TOPICS

May 24

th

:

A seascape with rocks.

May 31

st

:

Paint what you like

June 7

th

:

Make a sketch or painting of an

interesting building in your local area.

June 14

th

:

Paint what you like

June 21

st

:

Paint movement (e.g. cycling, football, tennis)

June 28

th

:

Paint what you like
Coming Soon
We will hold our Summer Garden Party on Sunday July 10th, 12 – 4pm.
Barry Wisbey and his wife have very kindly offered to be our hosts. They live in Wymers Wood Road, on the outskirts of Burnham, convenient to get to from either Cookham or Maidenhead.
Put the date in your diary and we will give full details of what to bring etc. next month.
Yours sincerely
Robert Jones
Newsletter Editor