Dear Member
It is time to start organising our Summer Exhibition. All the details needed to enter your work in this exhibition have been sent to members with their individual Newsletters.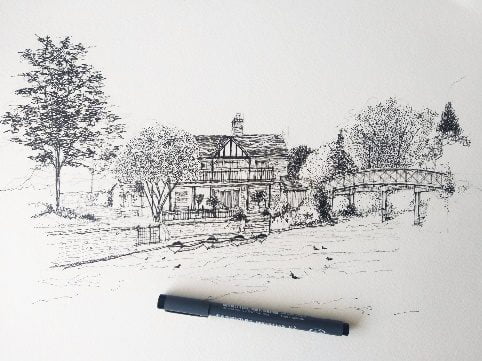 We begin as usual with some reports on recent activities and details of this month's events.
Another grand day out- as Wallace & Gromit would say! Five of us had a beautiful day painting at Odney Common in May. The weather was so hot for most of the day, that one painter reported 'my arms burnt and I never noticed until later.'
Afterwards a few of us went to the Teapot tearooms in Cookham for a cup of tea and a huge piece of cake.
In May we welcomed Susan Gray who ran a fabulous landscape demo in acrylic. She was very informative about her approach to acrylics and showed/explained many new tricks unknown to many of us.
Her tools: big brushes, palette knives in various shapes, tissue paper, knitting needle and old credit card for mark making, fingers, spray bottle, cotton buds for instant flowers and lifting off little details which were not quite right and finally a feather for soft wiggles.
She used a 3mm MDF board, gessoed on all sides. She started with enormous round brushes to draw overall composition and charcoal for small trees and the house. Phthalo blue + different yellows for greens. Ultramarine + burnt umber for the dark area you see in the foreground, into which she scratched with the knitting needle.
We are hoping to get Susan to run a workshop for us next year!
Events in July
It is not long now until our SUMMER GARDEN PARTY, on Sunday July 9th, from 12 to 4pm. This year John and Janice Eckhart will be our hosts in their lovely garden in Marlow.
This has always been an enjoyable, well-supported event and it is so good to meet up with other members we may not have seen for a while. Do come along if you can, partners welcome too!
Please bring a plateful of 'finger-food' to share. If you would like to bring something like a trifle, we'll make sure we have enough bowls etc. The Club will provide plates, cups, cutlery etc and some soft drinks. Tea and coffee will be available.
John has got quite a large selection of garden chairs but once we have an idea of numbers we will ask for help with any short-fall.
We plan to have a quiz and a raffle with some lovely prizes. See you there!!
Monthly Meeting – Thursday July 20th, 7 – 9pm in the Parish Centre (Church Gate, Cookham, SL6 9SP).
New Arts Evening – This is a critique of our 'modern style' paintings by the artist Peter Keegan. Please bring along ONE new, modern style painting (e.g. an abstract or a work with an unusual/new approach) which has not been seen at one of our previous meetings. We look forward to an entertaining evening. As usual we will have a small prize for the members' favourite painting.
Tuesday Painting Workshops. At Cookham Dean Village Hall, Church Road, Cookham Dean, Berks SL6 9PY, from 2 to 5pm.
Tuesday Painting: cost £2
A topic, appraisal, tea and cake
Tuesday Extra: cost £1.50
Painting, tea and biscuits
July 4th: A seascape with boats
July 11th: Paint what you like
July 18th: Paint a postcard
July 25th: Paint what you like
Coming Soon: The Summer Exhibition – all the details for entry have been sent to members with their personal Newsletters.
Obituary
It is with great sadness that we have to tell you that two members of our club have passed away recently.
Martin Drake will be remembered by all of us for the skill he had for moulding glass into all sorts of wonderful objects which he displayed at our exhibitions.
Brenda Boothman had been a member for many years. She was a lovely lady, always positive and cheerful and her artwork often reflected her sense of fun. She helped with and took part in all our exhibitions. 'Tuesday Painters' will always remember her as a truly excellent cake-maker!
Our sincere condolences to all their families and friends.
TIP OF THE MONTH
Another paint saving tip. After the end of an oil painting session scrape together all left-over mixes and pure colours, mix well and you will end up with what is often called 'palette grey' – useful in future for shadow areas and dulling down your colour mixes. Keep this in a sealed pot, or if your palette does not have to be put away, covered with a small, upturned glass jar on the corner of the palette. This could be useful for acrylics too, if you are quick enough to not let them dry out!
Yours sincerely
Robert Jones
Newsletter Editor