February 2023 Dear Member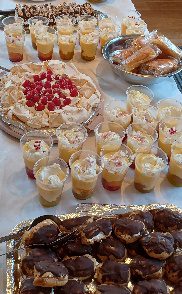 May we wish you a Happy and Healthy 2023. Last December it was good to meet so many of you at our Christmas Party. Thank you so much for coming along and bringing such lovely food. Your membership renewal was due on 1st January 2023. Many thanks to those of you who have already paid. If you have not done so, and do wish to remain a member of Cookham Arts Club, simply send your fee by bank transfer to our HSBC account (payee: Cookham Arts Club, sort code 40-42-09, a/c number 41157671) with your name as a reference. Fees are £20 for single membership and £34 for a couple at the same address. If you can do this as soon as possible it will be very helpful. We are not asking members to submit a renewal form this year so if any of your details have changed, please do remember to let us know. If you wish to pay by cheque, let our membership secretary Sue Sepehri know and she will make sure you are sent the necessary details.
If you decide not to renew this year, we will be sad to lose you and this will be your last Newsletter Events in February Monthly meeting – Thursday 16th Feb. 2 – 4pm in the Parish Centre (Church Gate, Cookham, SL6 9SP). Demo by Rick Holmes. Rick does many pastel paintings and had work selected for the Pastel Society Exhibition in 2022. The subject that he will do for us is an old shed or stable in a field/garden, using pastel on an ink roller base. Club Workshop Day: On Saturday, Feb 18th in the Parish Centre. 10am – 4pm. We invite you to take part in 'Wild Cookham's' Art Festival.
What is the Art Festival? ​WildCookham is a community group focused on discovering, celebrating and supporting biodiversity in Cookham. WildCookham is organising a free art festival about wildlife and the impact of climate change. Entitled 'Our Changing Earth' it is a wildlife festival using art to tell a strong environmental narrative to inspire, educate and entertain. There will be a weekend long festival, 10th – 11th June, for visitors interested in either art, science or nature, or just interested in finding out more about how we can make changes. (For inspiration, visit both of these websites to find out more: www.wildcookham.org.uk and www.ourchangingearth.co.uk) In our workshop we will use, for example, photos, other media and paintings as inspiration to produce a piece of artwork which has a narrative around our changing earth. Leysa Henderson of 'Wild Cookham') will be our tutor for the day. Paintings will eventually be displayed, (and offered for sale), as part of the 'Our Changing Earth Festival' at the Odney Club in June. As we do not have to pay for the tutor for the day, we can keep our fee down to just £12 for the workshop. To join the workshop, please email Sue Sepehri by Wednesday 1st February requesting how many places you will require. Please send your request sooner, if possible, as our workshops are often over-subscribed. Sue Sepehri will then email your confirmation and outline your payment options. No payment will be required until Sue has emailed you and confirmed your place. Coming Soon You are invited to take part in our annual Spring Art Exhibition and Sale, 3rd – 5th March 2023 This will be held in Pinder Hall, Cookham Rise, SL6 9EH and is for club members only.
Brief details are as follows:
To exhibit your paintings screens will be available for hire. £8.00 for a 4ft x 4ft screen and £12.00 for a 6ft x 4ft screen. 2 artists may share a screen.
Members may exhibit single paintings on a 'mixed artist' screen for £5 per painting if they do not want a whole screen.
To exhibit craft items a few tables are available at £12.00 per table.
If you hire a screen, you may offer greetings cards for sale.
On the screens, we will only hang original artwork, not reproductions/prints.
If you hire a screen, you may, in addition, put a maximum of 3 unframed pictures for sale in racks – originals or prints are acceptable – prints must be of 'archive' quality (probably 'professionally' printed Giclee prints). Digitally created artwork (not photographs or digitally modified photographs) may be entered as unframed prints.
Artwork in the racks, whether prints or originals, should not be priced too low – as a guide; approx. A4 sized, £20 minimum; approx. A3 sized or larger, £30 minimum.
The detailed entry notes, the booking form and forms to list your entries on are at the end of this Newsletter. (For a Craft Entry Form please contact Wendy.) Please ring Wendy Mercer, 07985 343437, to provisionally book your screen/table. It will really help with our planning if you make a provisional booking as soon as possible. Tuesday Painting Workshops. At Cookham Dean Village Hall, Church Road, Cookham Dean, Berks SL6 9PY, from 2 to 5pm.
| | |
| --- | --- |
| Tuesday Painting: cost £2 A topic, appraisal, tea and cake | Tuesday Extra: cost £1.50 Painting, tea and biscuits |
| January 31st: A solitary tree in a landscape | February 7th: Paint what you like |
| February 14th: An archer | February 21st: Paint what you like |
| February 28th: 'Wild Cookham' (See Feb 18th Workshop) | March 7th: Paint what you like |
TIP OF THE MONTH We have seen some fascinating artwork at 'Tuesday Painting' lately, involving white ink on black paper. There are no doubt all sorts of suitable pens for this, but one recommended by a member is the 'Sakura Gelly Roll' white pen, available in various nib widths from The SAA (www.saa.co.uk ) or Jacksons Art (www.jacksonsart.com). Yours sincerely Robert Jones Newsletter Editor