Dear Member
As this is the first Newsletter sent to you in 2021, May we wish you a Happy New Year. With the coronavirus still causing a great deal of trouble in the country, we can only hope that the year is better than 2020.
I am very grateful to members who have contributed articles and photographs of their paintings for the Newsletter over the last year. As we are yet again in 'lockdown' and I try to find interesting things to write, I do hope that you will continue to let us know what you are doing and send us material for the Newsletters.
Anything even vaguely art-related which might interest other readers – maybe even a joke or two? (I spotted an albino dalmatian last week – least I could do for the little fellow! (don't groan too much, that's one of my better jokes)). 
Membership Renewal was due on 1st January 2021.
Have you remembered your renewal? About half of our 2020 members have renewed at the time of writing. We have tried to make the renewal process 'paperless' this time by using emails and bank transfers.
We do hope that the rest of our 2020 members will wish to stay with us in 2021. As explained previously, bearing in mind the restricted activities of the Club in 2020, we are charging just £10 (or £16 for a couple) for existing members to renew.
Satu and Sue have been working hard to make sure we have a great programme of events planned for 2021. You will find this programme at the end of this newsletter for you to print and keep.
This will be the last Newsletter you receive if you decide not to renew your membership.
Paying your subscription and returning the Renewal Form.
The renewal forms are attached separately to the email which brought you this Newsletter (in Word and PDF format, whichever you prefer to use). Instructions for completion and return are on the forms.
Some members do seem to have had difficulty filling in the forms on computers and tablets. It is fine to print the form and fill it in by hand and then photograph it (e.g. on your phone) and email the photo to me 
(if you are offered a choice of file size, pick about 1MB).
This year we would like you to pay by bank transfer – Please contact me for the club bank details at rdjforcac@gmail.com.
Last December Susan Clare presented a watercolour demonstration from Jamaica – with better pictures on-line than some demos from the UK.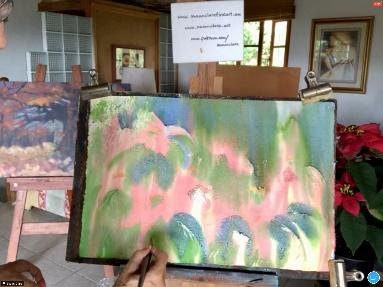 Susan moved to Jamaica to start a scuba-diving business. Now she has an art studio above her house on the hillside, with a steep, wild garden five miles up in hills near Montego Bay. Susan also has a studio in the UK – but has been 'stuck' in Jamaica since the lockdown. She chose Poinsettias for the painting as they grow wild there.
Starting with a faint graphite sketch, she then used oil pastels – which would act as a resist. She used yellow to leave highlights in the watercolour, working on rough w/c paper which gives good texture with the pastels.
Wetting the paper well, she added first washes of yellow, then red, then green – running down the paper.
After drying she added definition with a smaller brush and less-wet paint. A pointy mop brush was used to form leaf shapes with one or two brushstrokes. 
Dark greens and blue were painted under the red bracts to make them stand out. More 'double cream' consistency paint was used to boost foreground colour, using wet in wet on the red bracts with dark and light reds. 
Near the end, she turned the painting up-side-down. She mixed the same colours used elsewhere, ultramarine blue, winsor red, crimson and sap green, on a palette to get a muddy dark green colour. With a big brush and spray bottle, she painted and sprayed the upper background area of picture – this gave a good dark shadow which lets some original background colour show through.
February Demo
Instead of the Zoom demo this month the artist Keith Hornblower will be preparing a video especially for the Club – 'An Icelandic Scene in watercolour'. You will be able to access this on Thursday 18th February, from 2 – 4pm.
Members might remember his skill with watercolour when he demonstrated a painting of Cookham High Street. We will send you the link to access this as soon as we receive details from Keith.
'Member's Paintings'. Do keep painting and sending me your photos, we love to see them. (rdjforcac@gmail.com). Follow the suggestions, below, if they inspire you, but anything goes – so feel free to send me pictures of your art, whether you use the suggested 'Tuesday Painting' topics or not.
See extra pages enclosed, or extra PDF sent by email for recent paintings.
Tuesday Painting: Suggested TOPICS

January 5th: Fog or mist

February 2nd: Queues (buses, railways, theatre, shops)

January 12th: Hogmanay or Burn's night

February 9th: Valentine's Day

January 19th: Make a study of an insect (research Maria Sibylla Merian 1647-1717)

February 16th: Pancake Day

January 26th: Crocuses and/or Snowdrops

February 23rd: A spilled bin and its contents or Recycling
Member's contributions
Maralin has been busy, as always! She says 'I am planning on painting a series of endangered animals and using them to raise some money for the WWF. I am currently working on a lion.'         (Right: one of Maralin's wildlife paintings of a gorilla)
'Recently I created a large banner for a care home for a charity that I volunteer for.
It's on a portacabin where the elderly can meet loved ones. The butterflies fly towards the door and then inside the cabin there are butterflies that visitors can write messages on for their loved ones and these get stuck on the internal walls.'
Ruth has sent in some pictures which may inspire you to try a new medium – Inktense pencils. These are water-soluble coloured pencils which can produce intensely coloured ink-like washes which are permanent when dry. Look on the hobbycraft.co.uk website and you might find sets of pencils at half price, if the offer is still on. Also, you will find a little video showing that you can use them on silk, and the results are washable!
The following contribution arrived unexpectedly in my in-box a little while ago …………….. !
An Old Codger's Thoughts on Cookham Arts Club
The other day I was sorting out some papers and came across a copy of the catalogue for the Club's 70th Annual Exhibition in 2011, and after reminding myself of the atrocities that I had submitted for the Hanging Panel to send to Room 101, I turned to the inside of the back cover and read the outline of what our club is all about. From this article I would like to quote the second paragraph which sums up the basic purpose and function of the club.
  'Over the years many established and well-known artists have had their introduction to the Arts through the Club and it is a function of the Club to give encouragement to beginners and to afford help and advice from fellow members.'
Sylvia and I joined the Club after visiting a C.A.C. Exhibition at Bourne End Garden Centre many, many moons ago. Alas! We can no longer hold such events there because in addition to the gardening business all the space is now occupied by franchises. 
I came into the Club after almost 40 years in Performing Arts and so it was a little strange to enter the Village Hall and into an atmosphere of almost silence after being used to busy noise at rehearsals.  Being keen to learn and improve I was grateful for the help and advice that was forthcoming but soon after I joined the club a new treasurer was required. I had let slip the information that I had experience as a treasurer and the rest is history. My attempts to learn and improve my capacity to produce pictures of quality have never reached the level to which I aspired.
I must say that I am grateful for the acquaintances and friends that I have acquired during my time as a member of Cookham Arts Club and for the joy of being able to contribute to the success of the Club through its exhibitions, sales and other activities including umpteen years as treasurer.
Although the present times are difficult with the pandemic and the associated lockdowns, I feel that the Club is in good heart and in good spirit. I feel just as much a part of the club as I have ever done through reading the newsletters and seeing what members have produced and the reports on demos by Zoom.
We have a very talented committee who are working hard to keep the Club strong in the face of adversity and I salute them for this. I think that the Club is as strong as I have ever known it. Adverse conditions can bring the best out of people and the organisations to which they belong. Times will improve and then we will be able to meet together in person instead of by Zoom.
Thank you to Cookham Arts Club for putting up with me for so long but I don't intend to give up yet and will be around in person for as long as I can, in spirit, from my armchair or perching stool.
Old Codger (and ex-treasurer.)
Coming Soon
The Spring Art Exhibition and Sale, 2nd – 5th April
You are invited to take part in our annual Spring Art Sale and Exhibition.
Covid restrictions permitting, we will hold this over the Easter weekend and will have a four–day exhibition. It will really help with our planning if you make a provisional booking as soon as possible.
This will be held in Pinder Hall, Cookham Rise, SL6 9EH and is for paid-up members only. All exhibits should be for sale. Brief details as follows:
To exhibit your paintings screens will be available for hire. £6.00 for a 4ft x 4ft screen and £10.00 for a 6ft x 4ft screen. 2 artists may share a screen.
Members may exhibit single paintings on a 'mixed artist' screen for £4 per painting if they do not want a whole screen.
To exhibit craft items a few tables are available at £10.00 per table.
If you hire a screen you may offer greetings cards for sale, as well as THREE unframed works.
Please contact Wendy Mercer on wgmforcac@gmail.com , to provisionally book your screen/table. 
NEXT MONTH (in your March Newsletter) we will give you detailed entry notes and the booking forms which you will need to return very promptly.
Are you, or is someone you know, looking to get a MOBILITY SCOOTER?
Bert, our Club president who passed away recently, had an almost new electric mobility scooter. His son would like to ask if any of our members know of someone who needs one and would like it. He doesn't want much for it. Please contact me, Robert, if you are interested.
TIPS OF THE MONTH
Try something new for the New Year – such as Inktense pencils. (See Ruth's inspiring paintings above, and among this month's paintings sent in by members).
Something to watch: The TV channel 'Sky Arts' can be found on Freeview. At the time of writing, they have started showing Landscape Artist of the Year – according to my programme guide it's on Wednesdays at 8pm, Saturdays at 2pm and Sundays at 8pm, on channel 11 (the same episode aired three times, I think).
Yours sincerely
Robert Jones email rdjforcac@gmail.com
Newsletter Editor
Cookham Arts Club Programme of Events for 2021
January 21st

Thursday 2 – 4 pm   Zoom – Critique by Tony Jackson

February 18th

Thursday 2 – 4 pm Zoom – Demo Keith Hornblower – Watercolour – Icelandic scene

March 18th

Thursday 2 – 4 pm Zoom – Demo Melissa Wishart – Seascape – Oils or Acrylics

April 2nd– 5th

Easter

Spring Art Sale

April 15th

Thursday 7 – 9 pm Parish Centre – Demo Stephen Cheeseman – Townscape – Oil Pastels

April 18th

Sunday Painting 10.30 – 4 pm

April 25th

Sunday 10 – 4 CDVH – Workshop – Mark Warner – Coastal seascape – Acrylics or Pastels

May 16th

Sunday Painting 10.30 – 4 pm

May 20th

Thursday 7 – 9 pm Parish Centre – New Arts Evening – Critique by George Boyter

June 6th

Sunday Painting 10.30 – 4 pm

June 17th

Thursday 7 – 9 pm   Parish Centre – Demo Mark Fennell – Oils Impasto Portrait

June 12 – 19

Club Holiday

Saturday July 10th

12 – 4 pm 80th Anniversary Event – Parish Centre

July 15th

Thursday 7 – 9 pm   Parish Centre Demo Tony Parsons – Oils – Gestural Poses

August 1st

Sunday Painting 10.30 – 4pm

August 17th – 29th

Summer Exhibition

September 5th

Sunday Painting 10.30 – 4pm

September 16th

Thursday 7 – 9 pm  Parish Centre – Presentation  by  Andrew Forkner  using PowerPoint showing his start to finish method of painting birds

October 2nd

Saturday 10 – 4pm Parish Centre – Workshop – Sonia Bacchus – figures – Acrylics or Oils

October 10th

Sunday Painting 10.30 – 4 pm

October 21st

Thursday 2 – 4pm   Parish Centre – Demo  Roger Dellar – Dance – Oils

November 14th

Sunday 10 – 4 pm CDVH – Workshop Chris Christoforou (Details TBA)

November 18th

Thursday 2 – 4pm AGM & Talk (Details TBA)

Thursday December 9th

12.45 – 4pm Christmas Party