Dear Member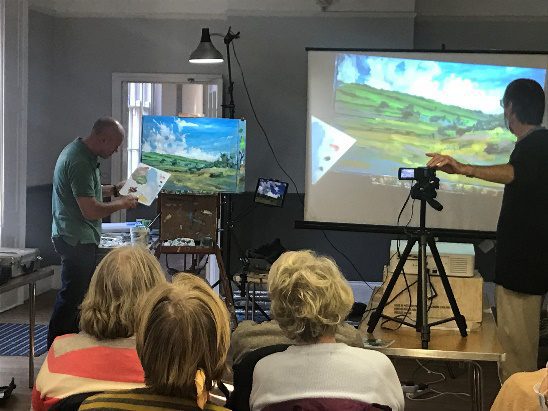 In October we welcomed Mark Warner who, with a help of very ordinary looking photo, created a wonderful landscape in acrylics. He used a blue pastel paper to paint on so no white gaps were showing at the end. Mark also used a flat square brush that he turned in all directions to achieve very believable trees and bushes. On his palette he had a mixture of different makes, for example Liquitex and Golden. Various greens and blues were used, with a touch of Permanent rose and Yellow Ochre here and there.
All in all, an enjoyable afternoon.
Late in October, Tuesday Painters held the annual Christmas Card competition. The winner, with this cute squirrel in a Christmas hat, was Pam Hammond.
The Christmas Party
Thursday 15th December, in the Parish Centre (Church Gate, Cookham, SL6 9SP).
Last year, with a sharp rise in Covid cases, we had to cancel our Party. Back to usual this year!! We invite you all to come and enjoy some convivial company and good food in the Parish Centre to celebrate Christmas and, rather belatedly, our Club's 80th birthday. We ask all those coming to bring a plate of food to share; the club will supply the drinks. To make sure that we have a good range of foods, Joanne Nicholl has kindly agreed to coordinate the list. Please get in touch with her as soon as possible to suggest what you will bring. This will also give us an idea of numbers to cater for. To minimise the risk of Covid being unexpectedly passed on we will be using disposable cups and plates, and (well washed!) cutlery which belongs to the club.
We will hold a raffle; included among the rather super prizes this year will be a voucher for a year's membership. We will have a prize Quiz, and also there will be a selection of books etc. which you might like to take home. If you would like to make a small donation for the books etc., we will pass it on to a local charity, so bring a few £1 coins.
A Party Competition. As you may have heard, we hope to get a new logo to replace the one which you see at the top of this newsletter. The references to theatre and music are no longer relevant to today's club. If you would like to help, please draw a design in black and white on an approximately 10 x 8 inch sheet of white paper and bring it along to the party. We plan to ask those present to vote for their favourite, for which we will offer a small prize (wow! more prizes). We hope to get several suggestions from different sources – Tuesday Painters, other members, people at the party – before we finally decide on the one to adopt – so PLEASE have a go and bring along your design.
TO ALL OUR MEMBERS: If you are not coming to the party, you can send any design proposals to me by email.
Tuesday Painting Workshops. At Cookham Dean Village Hall, Church Road, Cookham Dean,
Berks SL6 9PY, from 2 to 5pm.
Tuesday Painting: cost £2

A topic, appraisal, tea and cake

Tuesday Extra: cost £1.50

Painting, tea and biscuits

November 22nd: Dancers (Country, Ballroom, Latin, Street)
November 29th: Paint what you like – perhaps work on a new logo for the Club.
December 6th: Draw your hand in 5 different positions or hands of others or from photos. Time limit 20 – 30 minutes
December 13th: Paint what you like – perhaps work on a new logo for the Club.
December 20th: French shop fronts
December 27th: No meeting
Coming Soon
Your membership renewal will be due on 1st January, 2023. We do hope that you will decide to remain a member of Cookham Arts Club. To renew, simply send your fee by bank transfer to our HSBC account (payee: Cookham Arts Club, sort code 40-42-09, a/c number 41157671) with your name as reference. Fees are £20 for single membership and £34 for a couple at the same address.
If you can do this as soon as possible it will be very helpful. We are not asking members to submit a renewal form this year so if any of your details have changed, please do remember to let us know. If you wish to pay by cheque, let me know and I will make sure you are sent the necessary details.
The history of this long-established Arts Club to which you belong is truly fascinating and we hope that you feel part of a rather special club. Our President, Kay Lamb, has been researching the club history and at the end of this Newsletter you will find an excellent article which she has written. Enjoy the article, and if it brings to mind any snippets of history which we may not know about, please do get in touch.
TIP OF THE MONTH
When drawing a portrait, to get the mouth in the correct place it's helpful to do the nose first, then position the mouth – eyes, nose then mouth!
Talking of drawing, cartridge paper is most commonly used for dry media such as charcoal and graphite. It has a slight texture or 'tooth' which holds marks well, allowing a good range of tones to be achieved. For the best results with soft, dry media such as pastel and charcoal, often a specialised 'pastel paper' with even more tooth is used.
Cartridge paper comes in various weights and the heavier papers (200+ gsm) can take some watercolour or ink washes without too much buckling. But do you know why it is called cartridge paper? In the sixteenth century, before bullets were invented, the gunpowder and shot were held together in a twist of paper, for loading into the gun – cartridge paper!!
Yours sincerely
Robert Jones
Newsletter Editor
Cookham Arts Club History
Cookham and Cookham Dean Arts Club, later renamed Cookham Arts Club, was formed in 1941 when several artists escaped the bombing in London. They settled in Cookham and the surrounding area as some of them were friends of Stanley Spencer who was not a member but often exhibited with the club. We have a copy of a letter, dated 6th May 1941 (see below), inviting Mrs Shepard (wife of the local doctor) to join the Club when it was just being formed. The entrance fee for founder members was two shillings and sixpence. The wording of the letter expresses the horror and anxiety that people were experiencing in England at this time in World War II. As the letter shows the newly formed club was keen to include several branches of the arts like ballet, music and literature as well as painting.
From its very beginnings, the club hoped to be a 'refreshment and stimulant for tired minds and that it will encourage the amateur and interest the professional'. These aspirations can easily apply today albeit for different reasons and we still welcome and wish to encourage beginners as well as interest the more able artists and professionals. Exhibitions were organised from the beginning, mostly held at Pinder Hall but sometimes in the church hall. In the 50s the catalogue cost 6d but by 1966 it was 1/- and Membership was £1. In the 70s the Club's way of encouraging beginners was to organise Sunday outdoor painting sessions where they could begin to learn to paint. There was a small exhibition of their work in the winter. A small group of today's members still paint 'en plein air' on some Sundays in the summer, followed by tea and cake.
The club members were very active, producing pantomimes and plays, performing ballets, doing play and poetry readings and having musical evenings. During the early years the Preview Evening of the exhibition opening was a Soiree with someone officially opening it, music and of course, wine. Prices for paintings in the catalogue was expressed in Guineas.
Some of the artists were well-known nationally. Here are a few of them:
Frank Sherwin R.I. lived in High Street, Cookham and was a watercolourist. He is mainly known as the artist who painted all those wonderful railway posters that used to be seen in train carriages. During the war he was an adviser to the War Office on the camouflage of airfields. He regularly exhibited at CAC exhibitions until the 1970s and wrote an article in Leisure Painter in 1979. He served on the selection panel several times. He died in Slough in 1986. On Wikipedia and on various websites you can see examples of his railway posters and other paintings.
Henry Trivick R.B.A. (Royal Society of British Artists), 1908-1983, was a well-known painter and lithographer. He was a friend of Stanley Spencer and taught him how to make lithographs.
He lived in Bourne End and painted mostly abstracts, landscapes and buildings.
Examples of his work can be seen on various websites and information on the British Museum website.
Daphne Charlton was married to George Charlton, also an artist. They both taught at the Slade School of Art which, during the war moved to Oxford. She was one of Stanley Spencer's lovers. They painted each other and she appeared in some of his paintings including one with his first wife Hilda and she also knew Patricia Preece, Stanley's second wife.
Daphne painted a self portrait which can be seen online. Also, paintings by Stanley Spencer of Daphne and others may be seen on various websites. The Stanley Spencer Gallery has a wonderful collection of Stanley Spencer paintings including a pencil drawing of Daphne.
Ralph Thompson S.W.L.A was a well-known animal artist and book illustrator who worked with Gerald Durrell to illustrate his books. He also appeared on BBC TV before the news, painting on screen. He often worked in black and white, was a friend of Stanley Spencer and lived in Cookham Dean. More information is on Wikipedia and examples of his work is on various websites.
Robert Duckworth Greenham Trained at the R.A. School of Art. He painted lots of local scenes of the river, examples of which can be seen on various websites. He also did portraits of famous film stars and actresses some of which may be seen in the Portrait Gallery in London.
There are several artists who were and are known locally but not so much nationally, and exhibited with CAC, like Juliette Palmer R.B.A; Jack Widgery; Chris Tyrrell; John Ellis; Denis Pannett, R.S.M.A, Wapping Group, who has given us several workshops; Derek Eastoe; Tim Mallett; Giulio Bagnoli, an Italian artist. There are many others who could be mentioned but their names are not especially known today.
Well-known Sculptresses like Reca McGibbon who sculpted the head of Stanley Spencer and several local sculptures and worked at Moor Hall for Animaland Animations. Lydia Karpinska, known for her sculptures, exhibited paintings with CAC for several years before becoming a widely known sculptress. Locally she sculpted 'The Boy and the Boat' at the top of Maidenhead High Street and the one of Nicholas Winton on Maidenhead Station, who organised some of the Kindertransport in the Second World War.
Some of the pottery produced by John Bew and his team in the late 40s until the mid-50s at the Odney Pottery in Cookham was exhibited at Cookham too. This pottery was sold in John Lewis stores and Maidenhead Heritage Centre has quite a number of examples on display.
At the 80th Exhibition (in our 81st year) an elderly gentleman, David Ricardo, spoke to me saying 'I bet you haven't met anyone else who came to your first Exhibition like I did?' He was well into his 80s and Daphne Charlton had painted his portrait when he must have been quite a small boy. He told me that his grandfather once owned Quarry Wood Hall (known locally as 'the cardboard castle'). He didn't want to stay long so I didn't obtain any more information or get a photo of him.
As time has gone on Cookham Arts Club has given up some of the Arts activities that we used to do and nowadays we focus on Painting with sculptures, pottery, wood carving and glass exhibited at our exhibitions.
Kay Lamb, President, September 2022