Dear Member
Events in August
Sunday Painting 6th August, 10.30 to 4pm. Meet at The Parish Church of St Peter and St Paul Shiplake, Church Lane, close to the river and Thames Path, and next to Shiplake College – midway between Reading and Henley just off the main A4155. (Turn left from Henley Direction or turn Right from Reading/Sonning.)  Toilets will be available by the church as arranged with the vicar. Limited parking in Church Lane but parking OK in Village Hall car park on main road- short distance down to the church. We can drop off equipment then park if preferred.
The Annual Summer Exhibition
Our 81st Annual Exhibition is fast approaching and preparations are well in hand. August is our busiest month and all your help will be appreciated for setting up the exhibition. Most volunteers will already have been in touch with Wendy – if not, and you would like to help, please contact us.
Exhibition arrangements are as follows:
Saturday 12th August
Artists bring paintings (framed and unframed) and greetings cards to hand in from 10am to 12noon. Please don't forget the Greetings Cards form.  Selection takes place in the morning and templating (planning what goes on each screen) after lunch. HELP – we need lots of volunteers to porter in the morning on that day. Please contact us if you are available. We would like helpers to come from 9.30 am – 12.30, or after lunch 1.30pm – 5pm, to help move paintings and tables during templating.
Selection Panel: Arrive at 9.45 am. Members: Peter Cain (lead), Frank Cummings, Sue Evans. Non-members: Susan Gray, Heidi Ramsey.
Hanging Committee: Satu Vartiainen, Karen Comber, Robert Jones, Susan Norrell, Kay Lamb (chair).
Sunday 13th August
Craft hand in 1pm. Screen erection from 10 am and hanging the pictures from 11 am. At 10 am.  Strong volunteers are needed to put up screens, please. At 11 am volunteers are needed for hanging pictures, an easy job, as all screen layouts are planned during templating.
In the afternoon we need people to clear away tables and prepare the hall for Preview Night. Your help will be greatly appreciated. Please contact us if you are available.
Monday 14th August
Preview Evening 7- 9pm. All members are welcome to come along. We invite Guests who have previously supported our exhibitions.
Tuesday 15th August
The Exhibition opens at 10 am. It runs until Sunday 27th August.
Sunday 27th August
A bell will be rung at 4.45pm and the end of the Exhibition will be announced. The hall will be cleared, for health and safety reasons, of everyone except those who have a job to do. Craft exhibitors may begin to collect their unsold work. Will all other exhibitors please go around to the side door to wait and buyers go into the lobby. This will make it much quicker and easier for everyone to prepare the tables for checking out. Paintings may not be taken down by artists before 5pm.
At 5pm exhibitors and buyers will be invited back in to collect their unsold paintings and their purchases. If you are unable to be there yourself, please send someone to pick them up on your behalf.
After taking your pictures down you must check them out. Do not forget your reserve, unhung, unframed work and cards. Cards must all be checked out or you won't be paid!
At 5.15pm Dismantling Team start to pack-up screens etc. We would appreciate strong volunteers to help dismantle and store the screens and other equipment, please.
The club will not be responsible for paintings left behind.
The committee appreciates your help and would like to thank you all in advance.
If you use social media, please advertise the exhibition for the Club, or perhaps circulate some flyers by email.
TIP OF THE MONTH
For the best presentation at our SUMMER EXHIBITION, we ask members to pay particular attention to the framing of their work. We hope this little reminder, below, will help 'old timers' as well as newcomers to arrive on handing-in day with pictures ready to hang and not 'in need of repair'.
Good: D-rings on frames do not protrude far, so are unlikely to damage other paintings during handling.
Not acceptable: The protruding screw-eye can scratch other frames and dent canvases as pictures are handled.
Good: Framing points covered with framing tape. Not only covers sharp edges but keeps pesky insects out!
Not acceptable: Cover them up!
Good: D-rings are fine on the back of box canvases.
Good: Screw eyes are fine on the inner surfaces of a box canvas as they don't protrude.
Good: Edge of painting extends around side of box canvas.
Good: Edge of box canvas neatly painted.
Use Framing Tape or Gum Strip to seal the backs of framed work. Avoid using masking tape, as in a year or so the glue will dry up and it will probably fall off, and for the same reason don't use Sellotape!
If your framing is unsuitable, we will charge for any repairs needed so that you can still exhibit your painting. If we cannot repair, we will withdraw your entry.
Recent Club Events
Outdoor painting in June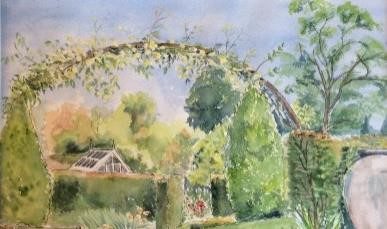 Four of us met at Dorney Court Garden Centre on a very hot Sunday in early outdoor painting in June, to paint in the walled garden of this beautiful Tudor mansion – the house itself situated a short walk down the estate drive. There were several views to choose from, including many large pots, displays of flowers and old wheeled carts, but we all headed straight for the shade of the beautiful rose arches to capture the view down into the sunken part of the garden.
Afterwards we had tea and cake in the garden of the adjoining cafe, when we found some of the staff had been taking a look over our shoulders while we were painting and were interested to see our results. It was another very enjoyable, relaxing day out, creating a painting en plein air in 4-5 hours.
Many thanks to Christine Bridgett for finding the location and booking our visit.
Monthly meeting in June
Last month the club welcomed Liz Baldin, an artist who gave us a beautifully detailed demonstration of how to paint a lovely bouquet of summer flowers in watercolours. As you can see in the photo the colours are delicate and harmonious. Liz had done the drawing beforehand so she was able to put her whole focus on mixing colours.
Foliage first. Lemon yellow, indigo and turquoise from which she made three different mixtures to paint from. She likes to paint from dark to light and uses a maximum of three layers of colours.
Flowers next. Lavender, pink, opera rose and a different blue.
Tip: use different brushes for every colour.
At the end Liz painted the background with a big brush bringing down the colours of the leaves and flowers. She made it look very easy!
The Club 2023 Holiday at Aberhonddu (Brecon)
Our first sunny day was at Tretower Court, and Tretower Castle ruins dating back to the 11th Century. Next, Brecon Canal Basin. And then we ventured to the north side of Llangorse Lake , to see the Crannog, a man-made island made of oak, willow and hazel wood over 1000 years ago. We found boats, jetties and far landscapes to paint.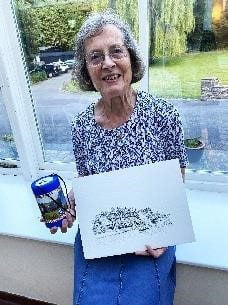 A couple of damp/wet days saw various groups going to Talgarth Mill, waterfall searching in Talybont-on-Usk, to the Brecon Mountain Centre and a cave at Aberdare.  Our final beautiful day was on the south side of LLangorse Lake at Llangasty. We spent the morning painting in the vicinity of St Gastyn's Church, and then the afternoon at Trebefydd House, described as the one of the most attractive and successful of Victorian country houses. We had a guided tour of the house and some of us indulged in a cream tea.
On our last evening we had an exhibition of our work in which other hotel guests were invited to put a £1 in front of paintings that they particularly liked, the proceeds to go to the local Mountain Rescue whom had given us a talk earlier in the week. Our winner was Kay Lamb, and we raised nearly £60.
Coming soon
Cookham Arts Club is now planning it's next Holiday for 2024 – would you like to join us for a week's holiday in North Wales with full board?
The Club is planning a 7-night Painting Holiday, based near Snowdonia, Date:14 – 21st June‐2024, with HF Holidays – Dolserau Hall, Dolgellau, Gwynedd, LL40 2AG
Although the HF Holiday title is 'self-guided walking' it is a holiday week with options to sightsee or walk independently and, of course, to paint. For the nonpainters you may be able to book and pay extra to join the walking groups if any are available that week. Members may share a room with a non-member. Bring your partner or a friend – someone with whom you are happy to share a room.
Go sightseeing or if you decide to paint join one of the club members who is painting. If you join the walks, follow the route suggestions that fit your requirements and fitness level, (details planned by HF Holidays). The characterful Victorian Manor House is full of charm and character with extensive gardens. Located at the Southern end of Snowdonia (Eryri) National Park, the location is idyllic; think ancient woods and craggy uplands in all directions (parts of the park served as the inspiration for Middle Earth in JRR Tolkien's The Lord of the Rings),
Dolserau Hall has 23 well-appointed guest rooms in two categories (Classic and Premium) spread across the main house and the converted coach house.
HF Holidays have reserved for us:
2 classic singles
2 premium singles
5 classic doubles
Our discounted group price:
The price for Classic rooms is £839 per person per week (single or double).
The price for premium rooms is £979 per person per week.
If we have more than15 persons £839 will be deducted off the whole
invoice.
This price includes: comprehensive breakfast choices; pre ordered packed
lunch; 3 course evening meal; evening's entertainment.
If you would like to join the holiday please see our CAC Holidays page for full details and the booking form.
Tuesday Painting Workshops
at Cookham Dean Village Hall, Church Road, Cookham Dean, Berks SL6 9PY, from 2 to 5pm.
Tuesday Painting: cost £2
A topic, appraisal, tea and cake
Tuesday Extra: cost £1.50
Painting, tea and biscuits
August 1st: Shells
August 8th: Paint what you like
August 15th: Morning light (low sun)
August 22nd: Paint what you like
August 29th: Cottage
September 5th: Paint what you like
Yours sincerely
Robert Jones
Newsletter Editor