April 2023 Dear Member
In February we welcomed Rick Holmes who did a very lively pastel image of a garden shed. Rick was both informative and entertaining and shared several tips about how to use pastels with acrylic inks, how to prepare surfaces and how to transport the work by protecting it with a sheet of glassine paper. The most important tip was that you don't need to buy pastel paper but instead use a primer called Colourfix Pastel Primer Clear. It comes in a pot, (in several colours as well as the clear), you add water and spread it on any paper or mount board, let dry and it's ready to paint on. Rick also recommended Unison soft pastels for their high pigmentation and creaminess. To clean his pastels he puts them in a pot of couscous, shakes them up and then sieves the pastels out of the mixture. He does this in batches from the lightest colours to the dark ones. All in all a lovely afternoon.
Also in February, 16 members attended the 'Wild Cookham' workshop led by Leysa Henderson. Leysa opened the event with an interesting and very thought-provoking presentation about environmental issues. The idea behind the workshop was to produce a piece of work which would provoke thought in the viewer about an environmental issue, and, alongside the artwork, to write a narrative about the theme. The art will eventually be displayed at a weekend-long festival, 10th – 11th June at the Odney Club in Cookham, for visitors interested in either art, science or nature, or just interested in finding out more about how we can make changes. (You can visit both of these websites for more information: www.wildcookham.org.uk and www.ourchangingearth.co.uk).
The artwork on display was, as usual, of a very high standard and sales were good. The club's income from screen hire and In early March we held our Spring Exhibition in Pinder Hall. A great band of volunteers came along to help set up the display screens, and to dismantle them at the end – a huge thank you to all involved. The commission has covered the cost of putting on the exhibition – an important consideration! We really appreciate all our exhibitors taking part and putting on such a good show. Thank you and well done to you all. Events in April Sunday Painting, April 16th, 10.30 to 4 pm. For the first outdoor painting day of this season, we are fortunate to be given access to the grounds of Nashdom Abbey in Burnham, formerly a monastery, but now private apartments. This has kindly been organised by one of our members, to whom we are very grateful. It is a very large attractive building surrounded by trees and gardens. Hopefully, there may be daffodils or bluebells in bloom. We will get together for refreshments and to see each other's paintings at about 3.15 pm, when one of the residents has kindly offered to do tea and cakes! Being a private location, it will be necessary to make certain arrangements for access, parking etc so as not to inconvenience any of the residents. If more than our usual small group wishes to take part, we may need to car-share. I hope you will appreciate that, on this occasion, we will need to know the numbers in advance. Therefore, could anyone wishing to come, please contact Lyn by Friday 7th April at the latest and she will circulate further details.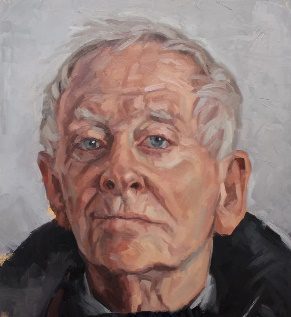 Monthly Meeting, Thursday, April 20th, 2 – 4 pm in the Parish Centre (Church Gate, Cookham, SL6 9SP). Mark Fennell is coming to demonstrate a portrait painting using oils. Mark is a professional portrait painter who works predominantly in oils, notable sitters include Isla St Clair, Antony Worrall Thompson and singer-songwriter John Otway. His work has been selected for exhibition with The Royal Society of Portrait Painters and The Royal Society of British Artists at the Mall Galleries London. As well as portraiture, Mark also enjoys the challenge of painting outdoors, working at speed to capture the fleeting effects of light over landscape. Ken, by Mark Fennell
Workshop, Sunday, April 23rd, 10 – 4 pm, CDVH, Workshop – Max Hale, still life in oil or acrylic. (This is the workshop which was planned for October but our tutor for April couldn't make it so we have swapped the two. Joel Wareing will be running his 'Urban scene with figures' in oils or acrylics in October.) Max has demonstrated for us on a few occasions – this picture is him in 2018 – and we have enjoyed his friendly and encouraging approach.
To join the workshop, for which the fee is £40, please email Sue Sepehri by Friday 7th April requesting how many places you will require. Please send your request sooner, if possible, as our workshops are often over-subscribed. Sue Sepehri will then email your confirmation and outline your payment options. No payment will be required until Sue has emailed you and confirmed your place. Tuesday Painting Workshops. At Cookham Dean Village Hall, Church Road, Cookham Dean, Berks SL6 9PY, from 2 to 5 pm.
| | |
| --- | --- |
| Tuesday Painting: cost £2 A topic, appraisal, tea and cake | Tuesday Extra: cost £1.50 Painting, tea and biscuits |
| March 28th: Paint a work from a black-and-white photograph | April 4th: Paint what you like |
| April 11th: A stained glass window, traditional or modern | April 18th: Paint what you like |
| April 25th: Create a piece of work in the style of Paul Nash | |
Coming Soon: If you took part in the Wild Cookham workshop we will be in touch about what to do next with your artwork. In the meantime, please work on any 'finishing off' needed, and also perfect your narrative about the picture. TIP OF THE MONTH Once you have washed your brushes, put some hair conditioner in a jar, add water and rinse the brushes in the mixture. They become beautifully soft again.
Yours sincerely Robert Jones Newsletter Editor