Summary of contents– please read on for further details
Covid Safe meetings – we have decided to ask members to show a recent negative Lateral Flow Test result at every meeting, (but we do understand that the supply of LFT kits is a problem at present).
A reminder to renew your membership
Monthly meeting with Jake Winkle
Reminder of the planned Club Fun Day
Tuesday painting workshops
Tip of the month
Coming soon – The Spring Exhibition
Dear Member
As this is the first Newsletter sent to you in 2022, may we wish you a Happy New Year.
Sadly, we did not hold our Christmas Party because of continuing worries about Coronavirus. Of course, the problem continues with the latest variant and you will know that we changed our January critique to Zoom.
Hopefully the events for February described here will be held 'live' with a suitably cautious approach.
To ensure that all members feel as safe as possible at our events we have decided that we should have a policy which sets out what you must do if you wish to attend.
If you come to Tuesday Painting, we ask that:
you use hand sanitiser on arrival at the venue, before signing in.
you take a Lateral Flow Test on the morning of (or within less than 24 hours before) each event and produce evidence of a negative test result to the person in charge, on entry if you can get hold of a LFT kit. *
you have received a "booster" or third vaccination against Covid 19 (unless exempt.)
you sign a declaration on entry to the event that you are free of any Covid 19 symptoms.
in compliance with current government requirements, you wear a mask at all times while inside the venue concerned (unless eating or drinking).
you maintain a distance of at least 1 metre if you remove your mask to consume refreshments.
* RBWM is not, at the time of writing, able to supply LFT kits at their distribution centres and some people are having trouble getting hold of them from other sources. We will continue to monitor the supply of kits, the situation with the virus and government advice.
We will get in touch with you before the other February meetings about the entry requirements for those events.
We trust that we will have your support for these measures and we look forward to seeing you at this year's live events.
Thank you, if you have renewed your membership. If you have forgotten here is a reminder:
January 1st was the time for your Membership Renewal, and we do hope that you will choose to stay with us for another year. (Fees are £20 single and £34 for a couple).
Renewal should be very simple this time – just go to our website, cookhamartsclub.com , and click on MEMBERSHIP at the top of the screen. Fill in and submit the online form, send the fee by bank transfer and that's it! There is a tick box on the form if you prefer to send a cheque.
(Reminder of bank details, in case you send the form off before making a note of them:
Payee: Cookham Arts Club, sort code 40-42-09, a/c no. 41157671, with your name as reference).
PLEASE send a form, even if you don't have to pay a fee this time (for example if you joined after the Exhibition this year or you are a life member). At the time of writing a few people have sent the fee but no form. Please send a form as well, so we can check that our records are accurate. Many thanks.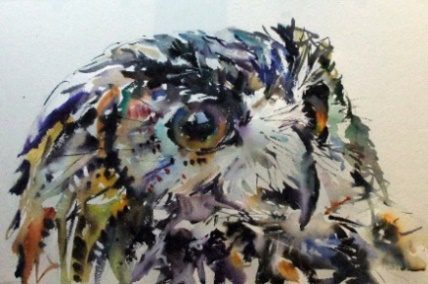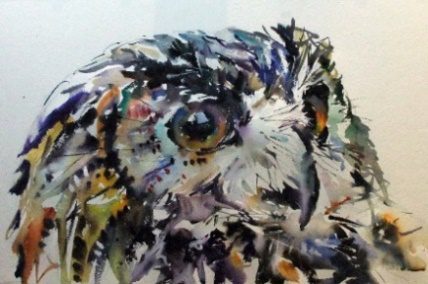 This will be your last newsletter if you decide not to renew your membership.
Monthly Meeting, Thursday Feb 17th 2 – 4 pm – in the Parish Centre (Church Gate, Cookham, SL6 9SP.)
Jake Winkle is coming to demonstrate his watercolour techniques, painting animals. Jake has a wonderful touch with the medium – a demo not to be missed!
Club Fun Day, Saturday February 19th 10am – 4pm – at Cookham Dean Village Hall (Church Road, Cookham Dean, Berks SL6 9PY).
We advertised this event last month. We are sure it will be fun, so get your emails sent to Sue as soon as possible if you would like a place.
By the middle of February, we are sure you will want to banish those winter blues by coming along for a day of interesting and amusing art activities. One will be a marbling technique using acrylic inks and shaving foam, and a second should loosen up your sketching and painting techniques – it will involve charcoal and strong coffee and a very long handled brush! Most of the materials will be provided. As a minimum you will need to bring along some quite heavy cartridge paper and a tray (e.g. baking tray).
£10 to attend – what a bargain! If you would like to join the workshop, please email Sue Sepehri by Saturday 22nd January (smsforcac@gmail.com) requesting how many places you will require.
Sue will then email your confirmation and outline your payment options. No payment will be required until Sue has emailed you and confirmed your place.
Tuesday Painting Workshops. At Cookham Dean Village Hall, Church Road, Cookham Dean, Berks SL6 9PY, from 2 to 5pm.
TIP OF THE MONTH
Here is a remedy for preventing your glasses fogging up when wearing a mask.
1 Rub washing-up liquid on to both sides of each lens, by rubbing with your fingers.
2 Wash your glasses thoroughly until they feel 'squeaky clean'.
3 Dry thoroughly. They can now be worn with a mask without any fogging up.
4 Repeat this for any fresh occasion where you find the anti-fog effect has worn off.
Tuesday Painting: cost £2

A topic, appraisal, tea and cake

Tuesday Extra: cost £1.50

Painting, tea and biscuits

February 1st: Mixed media: Cut up old paintings and use other scraps to create a new composition
February 8th: Paint what you like
February 15th: Create a 'mythical' character e.g. dragon
February 22nd: Paint what you like
Coming Soon
You are invited to take part in our annual Spring Art Exhibition and Sale, 4th – 6th March 2022
This will be held in Pinder Hall, Cookham Rise, SL6 9EH and is for club members only. All exhibits should be for sale. Brief details as follows:
To exhibit your paintings screens will be available for hire. £6.00 for a 4ft x 4ft screen and £10.00 for a 6ft x 4ft screen. 2 artists may share a screen.
Members may exhibit single paintings on a 'mixed artist' screen for £4 per painting if they do not want a whole screen.
To exhibit craft items a few tables are available at £10.00 per table.
If you hire a screen, you may offer greetings cards for sale, as well as THREE unframed works.
Please ring Wendy Mercer, 07985 343437, to provisionally book your screen/table.
It will really help with our planning if you make a provisional booking as soon as possible.
The detailed entry notes and the booking forms have been sent to all members with their copy of this newsletter.
(For a Craft Entry Form please contact Wendy.)
Yours sincerely
Robert Jones
Newsletter Editor