Dear Member
Club members have recently returned from the 2021 Holiday: 12 people,10 painters and 2 walkers went to the Isle of Wight.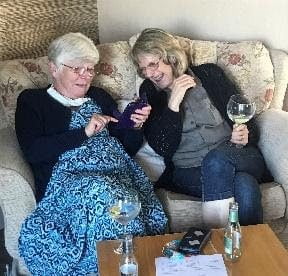 After few hiccups with getting on ferry, all enjoyed the trip, and found the hotel well prepared to cope with the Covid restrictions and keep their guests safe. There was some amusement caused by the unclear road signage which made navigation around the island rather tricky – one wit suggested they had not been changed since the last war!
Participants would like to say a big thank you to Freddie for taking on the organisation of the holiday (when Wendy, for family reasons, needed to take a break from it), and for his entertaining and challenging quizzes keeping us all amused. Also, a special thank you to Sue Carter for arranging group entries to some of the properties on the Isle of Wight as needed day by day. We appreciate their help in making things go smoothly.






As mentioned last month, the Cookham Arts Club Holiday 2022 is being planned.
Every year we organise a holiday for members and their partners. Following difficulty in securing the 2022 holiday in June, our 'usual' time, we have had no choice but to move the date to September and will have to pay our deposit quickly.
We have chosen a beautiful area to visit in north Somerset, which you can read about below. 
We would love more members to join us, with their partners if they wish (this year we had some party members who came along to enjoy the lovely countryside and not to paint at all – so do persuade your partners and friends to join the holiday!)  There are plenty of places to visit on foot, by car or by public transport, on your own or with other members.
DATES: 23rd September 2022 – 7 nights
Cost for the holiday will depend on numbers.
Sharing double room £791 per person, Single room £848, approx. (only 9 single rooms, once taken only double occupancy rooms available). If more people share, or the party size is 15 or more, the cost may go down.
To book your place, please fill in and return the form at the end of the newsletter with a deposit of £75 (which can be paid by bank transfer). If you would like more details, please contact Wendy as soon as possible. Wendy Mercer, 07985 343437.   Email wgmforcac@gmail.com 
Our venue for 2022: HF Holnicote House, Selworthy, Somerset.
Lying near the attractive village of Selworthy, in the heart of the Exmoor National Park, historic Holnicote House stands within a series of peaceful gardens with spreading lawns. Once the centrepiece of an extensive 12,500-acre estate, the charming and characterful house was gifted to the National Trust in 1944. Since then, it has been reimagined as a walkers' retreat, with wonderful access to the countryside. As well as 32 delightful en-suite bedrooms, there are two comfortable lounges and a sociable bar. Your stay will be full board: Full English Breakfast, Picnic Lunch, 3 Course Evening Meal The landscaped gardens are still part of the wider Holnicote Estate and provide a wonderful area to wander. Outside the house, explore wild Exmoor, stroll on the Somerset Coast Path with the opportunity to walk in the footsteps of Samuel Taylor Coleridge, drop in to Dunster Castle, ride a Victorian cliff railway and watch for wildlife including the majestic red stags.
Enjoy your evenings in our country house where you can share a drink and re-live the day's adventures. Discover the clarity of the night sky in this International Dark Sky Reserve
Report on Mark Fennell: Impasto portrait painting. 
On Zoom, 17/06/2021 (15 participants)
Mark worked for more than an hour with brush on to a pre-drawn sketch. Then he did some work with palette knives of various shapes and sizes. The result was a characterful portrait, but we did hope to see a little bit more palette knife work.
Colours on his palette:
Titanium white, Naples yellow, cadmium yellow pale, yellow ochre, cadmium red, alizarin crimson, burnt sienna, ultramarine blue.
Sunday painting: 1st August 10.30am – 4pm, at Rachel's home.
Rachel has space for about 4 cars in her drive with parking also available in road, but do car-share if you can.
It won't be necessary to bring our own chairs as she has enough for the numbers expected.
She will be providing refreshments and facilities.
We can paint in her garden or use it as a base to paint in Cookham Rise or Cookham village, close by.
We expect that no more than our usual 5 or 6 people will be there. However, if anyone who is not a regular could let Lyn (our outdoor painting organiser) know, then we can advise Rachel and be prepared. See you there for our first OUTDOOR PAINTING MEETING OF 2021.
Events in August
There is no August 'monthly meeting' as it is our 79th Annual Summer Exhibition this month.
Our 79th Annual Exhibition is fast approaching and preparations are well in hand. August is our busiest month and all your help will be appreciated for setting up the exhibition. 
Saturday 14th August: Handing-in and selection from 10-12 and templating (planning what goes on each screen) after lunch.
Sunday 15th August: Screen erection from 10 am and hanging the pictures from 11 am.
Monday 16th August: Preview Evening 7-9pm. This year the preview will be open to Invited Guests only (Covid considerations – to limit the numbers in the hall). A member can come with their guest if needed.
Tuesday 17th August the Exhibition opens at 10 am.
Sunday 29th August at 5pm the Exhibition ends.  Paintings may not be taken down by artists before 5 pm. 
More detailed exhibition arrangements are as follows:
Saturday 14th August: Handing-in.
HELP – we need lots of volunteers to porter in the morning on that day.  Please Contact Simone on sbforcac@gmail.com if you are available. We would like people to come from 9.30am -12.30, or after lunch 13.30 – 5pm to help move paintings and tables during templating.
Selection Panel: Arrive at 9.45 am. 
Non-members: Inge du Plessis, Cat Croxford
Members: Sarah Clark, Maralin Cottenham, Lindy Jost
Hanging Committee: Satu Vartiainen, Pam Cullinane, Simoné Bonner, Joanne Nicholl, Maralin Cottenham, Jane Wheaton (chair).
Stewarding: Please contact Wendy for stewarding dates and times (2 dates) (07985 343437)
Sunday 15th August: At 10 am Strong volunteers are needed to put up screens, please.
At 11am volunteers needed for hanging pictures, an easy job, as all screens are numbered. In the afternoon we need people to clear away tables and prepare the hall for Preview Night.
Your help will be greatly appreciated. Please Contact Simone on sbforcac@gmail.com  if you are available.
Monday 16th August Preview Evening from 7pm – 9pm. Guests are invited.  A member can come with a guest if needed, please contact Wendy,
wgmforcac@gmail.com
, to keep a limit on numbers.
Sunday 29th August 5.30 pm. We would appreciate strong volunteers to help dismantle and store the screens and other equipment, please.
Unsold work should be picked up by exhibitors and buyers between 5.15 and 5.45pm. If you are unable to be there yourself, please send someone to pick them up on your behalf. 
A bell will be rung at 5pm and the Chairman will announce the end of the Exhibition.  The hall will be cleared, for health and safety reasons, of everyone except those who have a job to do. Will exhibitors please go round to the side door to wait and buyers go into the lobby. This will make it much quicker and easier for everyone to prepare the tables for checking out. At 5.15pm pictures may be taken down before checking them out. Do not forget your reserve, unhung, unframed work and cards which should all be checked out or you won't be paid!
The club will not be responsible for paintings left behind.
The committee appreciates your help and would like to thank you all in advance.
PLEASE USE THE FLYERS ENCLOSED TO ADVERTISE OUR EXHIBITION
(They will be sent by post to email recipients of this Newsletter)
We will also send a version of the flyer to you by email – perhaps some of you use social media and could advertise the exhibition for the Club.
'Tuesday Paintings'. After 19th July if all covid restrictions lifted we will be back in the Cookham Dean Village Hall (Please take own cup, drink and napkin – Lyn has cake for 20th July). In case we can't meet indoors, we will meet on the green, weather permitting. We will still have Zoom on standby. As with the usual 'Tuesday Painting', anything goes – so feel free to work on or off-topic. 
Tuesday Painting: Suggested TOPICS

August 3

rd

:

A loosely painted seascape

August 24

th

:

Paint what you like

August 10

th

:

Paint what you like

August 31

st

:

A pastoral scene (Monet, Renoir)

August 17

th

: A human form imagined in a gnarled tree

September 7

th

:

Paint what you like
The Cookham Arts Club Holiday
HF holiday:  Holnicote House, Selworthy, Exmoor
Date: Friday 23rd – 30th September 2022
Name(s)
Home Tel No.                          Mobile:                                E-mail:
I would like ____ places @ £75 deposit per person
Bank Transfer details: Cookham Arts Club 
Account No. 41157671  Sort Code:   40-42-09   Reference:  Your name (essential)
or by Cheque to  'Cookham Arts Club' (post to Wendy with this form)
Cost for the holiday will depend on numbers.
Sharing double room £791 per person, Single room £848 approx. (only 9 rooms, once taken only double occupancy rooms available). If more people share, or the party size is 15 or more, the cost may go down.
[   ] I enclose s.a.e. for acknowledgement of my booking (optional – not required if you supply, mobile number or email as
text
or
email confirmation
will be sent)
Please send the slip to:
Cookham Arts Club, c/o Wendy Mercer, 3 Heywood Farm Cottages, Snowball Hill, Maidenhead, Berks SL6 3LU
(Tel. 07985 343437) Closing date Friday 20th August 2021